IrasCignavojo

WeltChronist und
Ex-ZSL



Status: Offline
Registriert seit: 14.05.2006
Beiträge: 5238
Nachricht senden
| | |
| --- | --- |
| Erstellt am 18.05.2006 - 02:48 | |
---
I'd like to welcome joiners and guests alike to our SharedWorld concept, the project Myra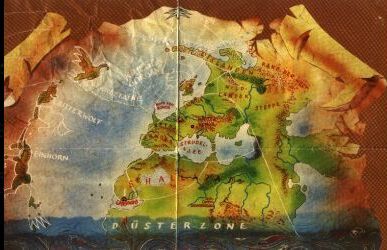 MYRA is the third of seven known planets in a solar system which it's wisest inhabitants call "the fields of Aro". It is a fantasy world, created by, described, simulated and played on by an unlimted number of people (over 1000) over an unlimited amount of years (over 20).

Any creative contribution is welcome, as is anyone who just wants to play along with a character of her or his own, or who just wants to use the vast background of Myra, out SharedWorld which we share here with you, as a background for their own creativity or their own role-playing campaign.

There will be tags for Art, Poetry, Stories, and regional tags to show where in the world of Myra any contribution is set, like the continent I administer, Karcanon.

As MYRA started out over 20 years ago, we had the time to do, create and write quite a lot. Why is so little of that on the webpage or in the forum? Because back then in the old days, we published in print. Nearly 15.000 pages on Myra are printed, about half-and-half stories and background material, I would guess. Scanlations of that take an awful lot of time. Hence my warning: Any links to Myra-related background information will probably lead to a page in German, but I'll try to remember making a note on the language for non-english links.

And now, again: Welcome to MYRA!
Signatur
---
Neue MYRA-Mailingliste
Post: myra@groups.io
Subscribe: myra+subscribe@groups.io
Unsubscribe: myra+unsubscribe@groups.io
Group Owner: myra+owner@groups.io
Help: myra+help@groups.io


Twitter http://twitter.com/projektmyra - Tiktok https://www.tiktok.com/@projektmyra