Dies ist das grösste Portal über Uruguay
Informationen von Einheimischen und Insidern





Ersteller
Thema » Beitrag als Abo bestellen

Miguel
Gründer und Betreiber des Forums




Status: Offline
Registriert seit: 31.08.2005
Beiträge: 5807
Nachricht senden

| | |
| --- | --- |
| Erstellt am 29.01.2011 - 18:36 | |

---




Retired Officers In Uruguay Protest 'harassment'
Posted by MashGet on January 29th, 2011

CBS News MONTEVIDEO, Uruguay (AP) – A group of retired Uruguayan military officers said that human rights investigations into alleged abuses during the 1973-1985 dictatorship have become harassment and warned they could make their "voice heard." The ex-officers, members of the "Liberty and Concord Forum," sent a letter to current army chief Gen. Jorge Rosales saying that "the issue of human rights in Uruguay not only hasn't been overcome but has reached deeper stages with the harassment of members of the armed forces and police." Protesters march in attempt to force Yemen's president out Middle East Fresh anti-govt protests in Egypt Clashes at Tunisia protest rally Calm in Cairo after day of protests Tunisia mourns fallen protesters Related posts:Large protests staged against Yemen president TelegraphMore than 10,000 people took to the streets of Yemen... Yemen Ignites in Protests Against President CBS NewsSANAA, Yemen - Tens of thousands of people called... Yemenis take to the streets calling for President Saleh to step down guardian.co.ukThousands of people took to the streets of Sana'a today,... Clashes at Tunisia protest rally BBC NEWSTunisian police have clashed with protesters during an anti-government... Egypt Police Use Tear Gas to Break Up Cairo Protest BusinessWeekJan. 25 (Bloomberg) -- Egyptian police fired tear gas at... Related posts brought to you by Yet Another Related Posts Plugin.


http://www.allthenewz.com/world/retired … arassment/





Signatur

---

ich bin Uruguayaner und habe 15 Jahre in Deutschland gelebt.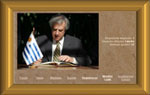 Einwandern und Zoll
counter